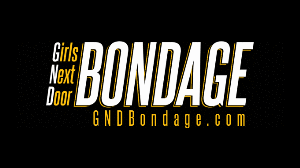 Liz Andrews tied by Sahrye from 2013
Ms Andrews(Liz) a teacher at the local school has called Sahrye in to discuss a problem with her step-daughter. It seems that Ms Andrews caught her hiding rope in her locker and wants to bring it to Sahrye's attention.
The video begins with Sahrye walking into Ms Andrew's office. At first the discussion is civil, but it soon turns into an argument. At one point, Sahrye loses her temper when Liz accuses her of being a poor step-mother. Sahrye grabs some of the rope, and then starts to tie the teacher up. Liz tries to resist and protest, but Sahrye is very strong and over powers her. As Sahrye ties her, Liz continues to reprimand her for not only her step-daughter's poor behavior, but also for her behavior as well. Finally Sahrye has heard enough. She reaches under her skirt and pulls the panties she is wearing off. She wads them up and stuffs them in Ms Andrew's mouth. She then tapes her up until she has Liz tightly mouth packed and gagged. Now with Liz muffled, Sahrye is able to finish tying her without having to listen to her complaints and threats. After leaving Liz to struggle bound and gagged on a chair, Sahrye returns and makes her hop over to another side of her desk. There she bends Liz over, lifts her skirt and spanks her through her pantyhose. When she is done, she puts Ms Andrews on the floor and hogties her. She then drags Liz behind her desk and leaves her there to be found by the next person who comes in her office. Sometime after Sahrye is long gone, a male teacher walks in to hear Liz squealing through the gag. He will then find her in this embarrassing situation, bound and gagged behind her desk.