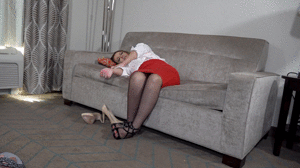 Carmen Valentina NEW
This is a story that requires your imagination. It involves Fantasy Magic.
Carmen has bought a pair of black high heels at an antique store. So today, she has a friend over and they plan to go out for the evening. While the man is away, Carmen pouts on her new shoes. That's when things get really weird. The man returns and finds that Carmen is no longer herself. Somehow the shoes have some kind of magic power that turns Carmen into Nympho Bondage slut named Victoria. This Victoria person who possesses Carmen tells the man that if he wants carmen back, he is going to have to tie her up and fuck her.